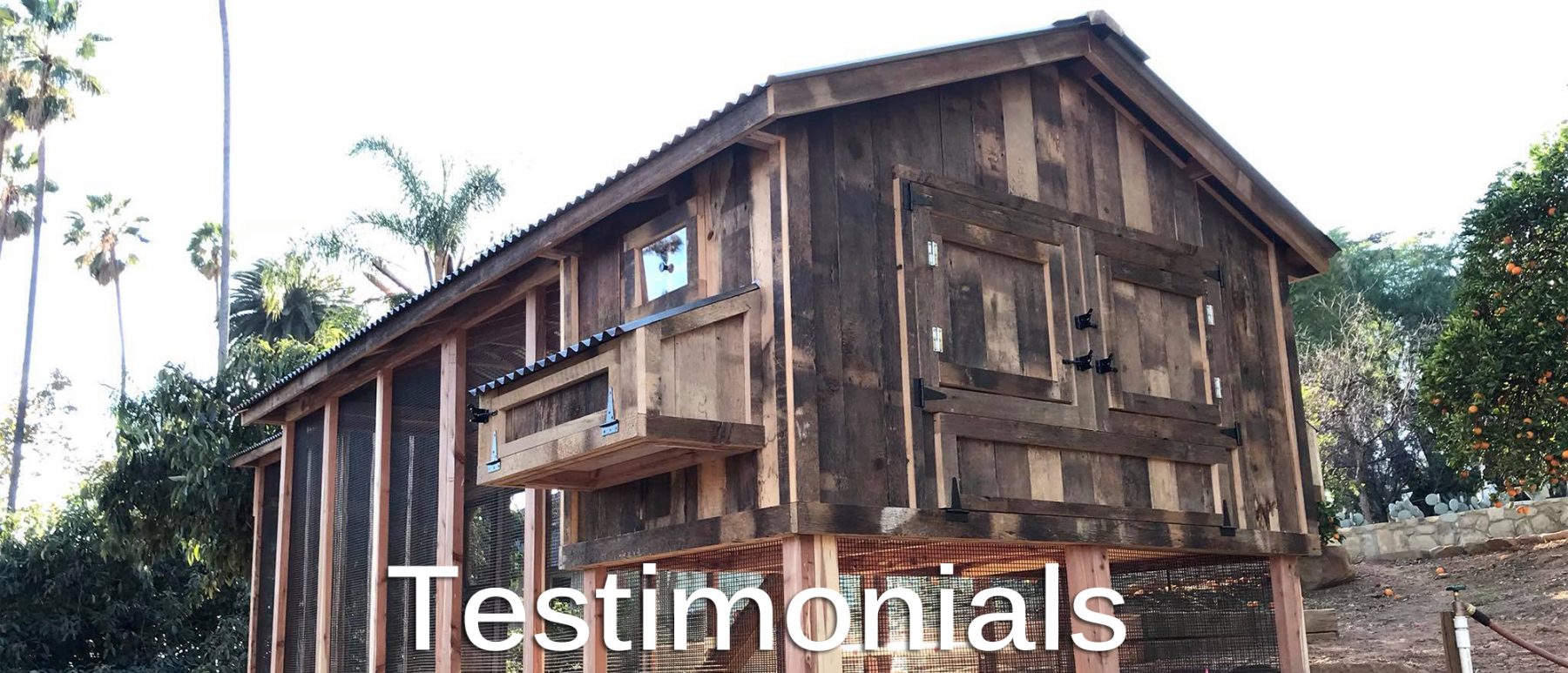 This company is great. They have lots of knowledge on how to keep your chickens happy and healthy, and its much easier with all the add-ons for feed and water. Thanks for always meeting our needs!

Outstanding! Quality craftsmanship, stellar design, and great responsive team. I love my Carolina Coop. Best ever!

Very knowledgeable, helpful and attentive to your needs. Great coops and products... there just aren't many other companies out there doing this...that do it this well!

I can not recommend Matt and his crew at Carolina coops highly enough!!! They were very easy to communicate with and so knowledgeable and fun to work with! They truly love what they do and provide very high quality coops for a great price! There really is no other place out there that can provide such high quality work for a great price! I'm so so so grateful to Carolina coops for making my chickens so happy and for making it so much easier for me to keep my girls happy and healthy!!!! Y'all are the absolute best!!!!

"Cadillac of Chicken Coops" If you are looking for a well designed and thought-out coop, then look no further. The level of craftsmanship in the materials all the way to the completeness of the instruction manual are beyond compare. I myself am a general contractor/remodeler and am thoroughly impressed with the level of thought that was put into the preparedness of the penthouse coop kit. Every part was meticulously machined and labeled. The structure when completed, was unbelievably strong and sturdy!! In addition to this, the customer service was outstanding. Very helpful with the willingness to genuinely be of service....a rare thing these days. If you choose to go with a different chicken coop company of any design... you "will" be disappointed. It's worth every cent!

When we were looking for a chicken coop, Carolina Coop is the only place that had exactly what we wanted. We were looking for a run where you could comfortably stand up in and have the whole chicken coop look nice since it would be in plain view on the side of our house. We were just blown away by how amazing our custom-made chicken coop is! It is crafted with so much thought for chicken owners. Not only is it made with such quality and craftsmanship, but every detail reveals great thought and design. Every part of our chicken coop is made from the most high-quality materials too. I can't say enough about how impressed we are with our American Coop. Kristen, Matt, and Sean were so nice to work with, they answered all our questions and made all the custom modifications we requested. Everyone who sees this coop stops to say how amazing it looks.

Matt and Gnon It's no surprise that you and Matt have launched such a successful business given your creativity and wonderful customer service. Best wishes for continued good fortune.

Matt and Gnon I just wanted to drop you an email and let you know how much we love our new Garden Coop and what a pleasure it was doing business with you and your company. The coop looks beautiful in the backyard and the chickens love it . As a matter of fact, they've already learned to roost. We are extremely satisfied with the coop. It's the perfect size for our chickens. We feel that they are very safe in the coop. It's easy to access and clean. The construction is top notch, it looks great and Carolina Coops' customer service was awesome. Throughout the process, from quoting to ordering to delivery you and your team were extremely helpful, pleasant and accommodating. I wish more places shared your philosophy of customer service. You listened to all our requests and accommodated them all even making great suggestions to help us out. We have recommended you to our friends and will continue to do so. Thank you for a great Coop.

I had the pleasure of picking up my American Coop from the shop. Entire team was friendly and responsive to my questions. Any assembly issues were quickly responded to - it made the experience such a positive one! Great company and great customer support!

Matt and Gnon, My great grandfather had a saying: nothing is ever as good as you think it's going to be and nothing's ever as bad ... This may be the one time when he was wrong. My high expectations were exceeded. Thank you both for your wonderful support and professional yet friendly and accessible attitudes.