American Coop—Our most popular coop! Starts at $4,700
6'x 12′ AMERICAN COOP: STARTS AT $4,700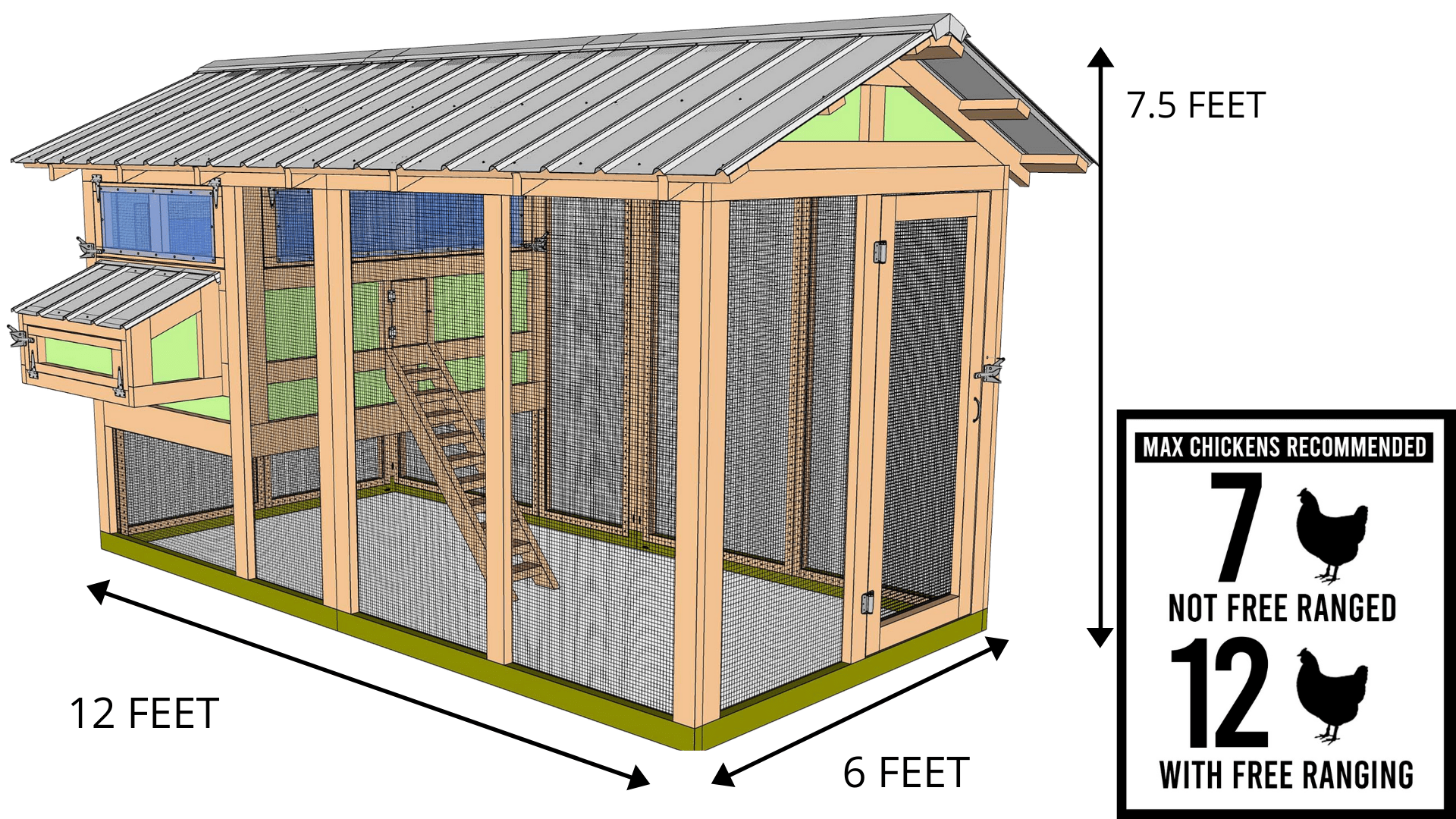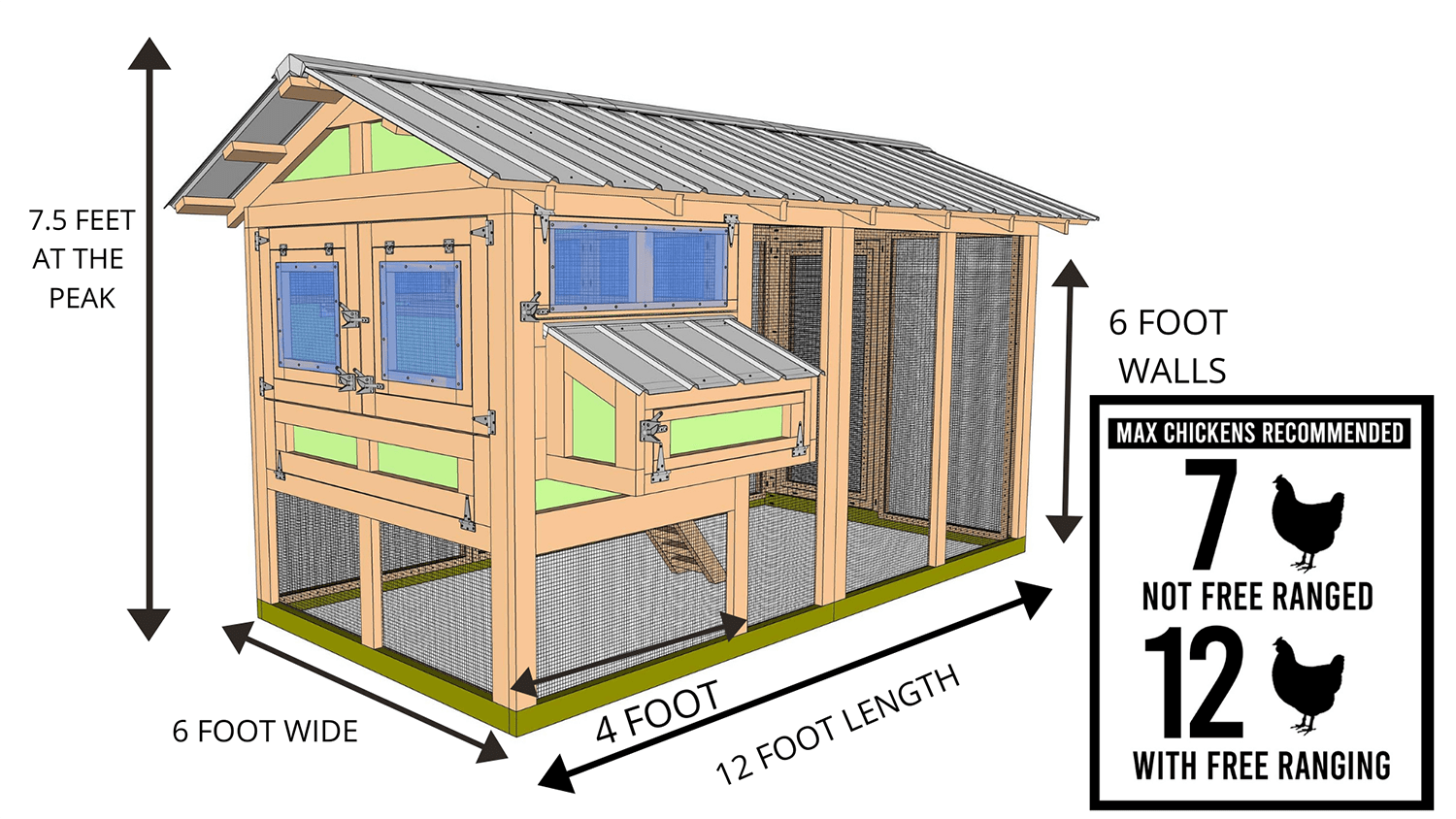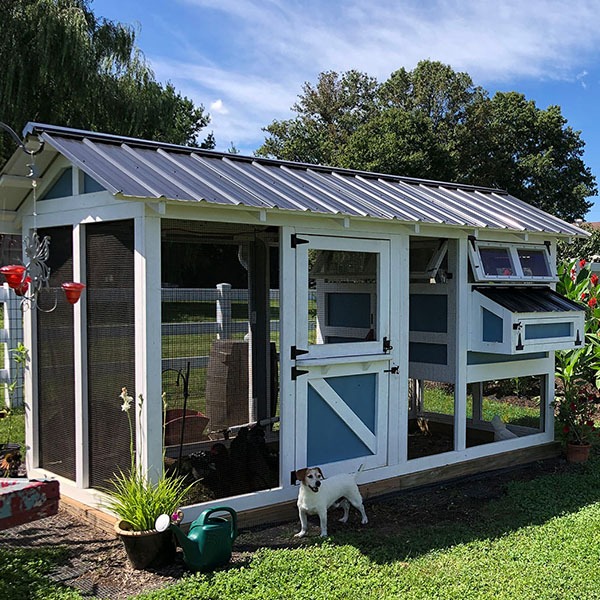 6'x12′ AMERICAN COOP CALCULATOR
6′ X 18′ AMERICAN COOP: STARTS AT $5,700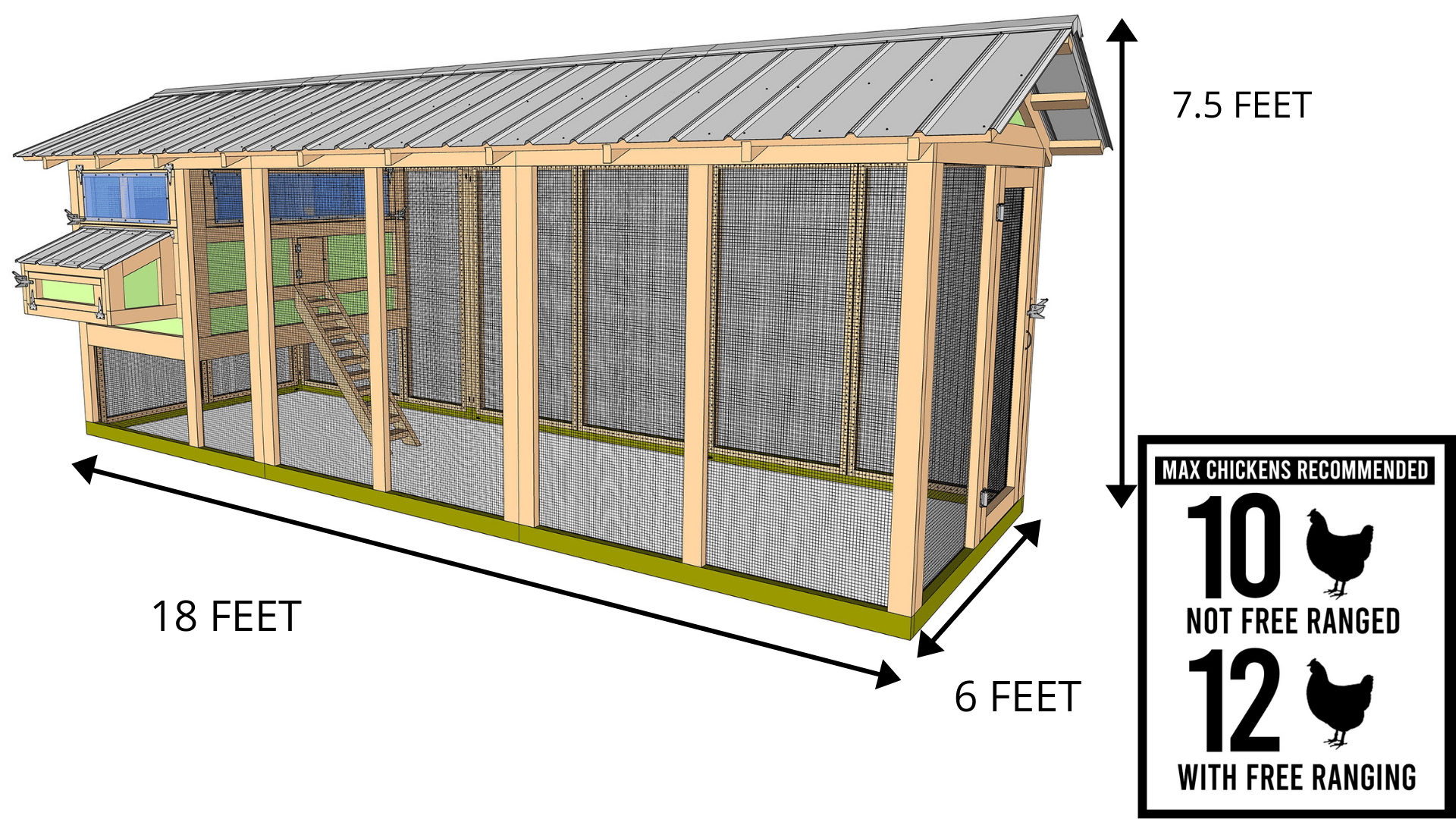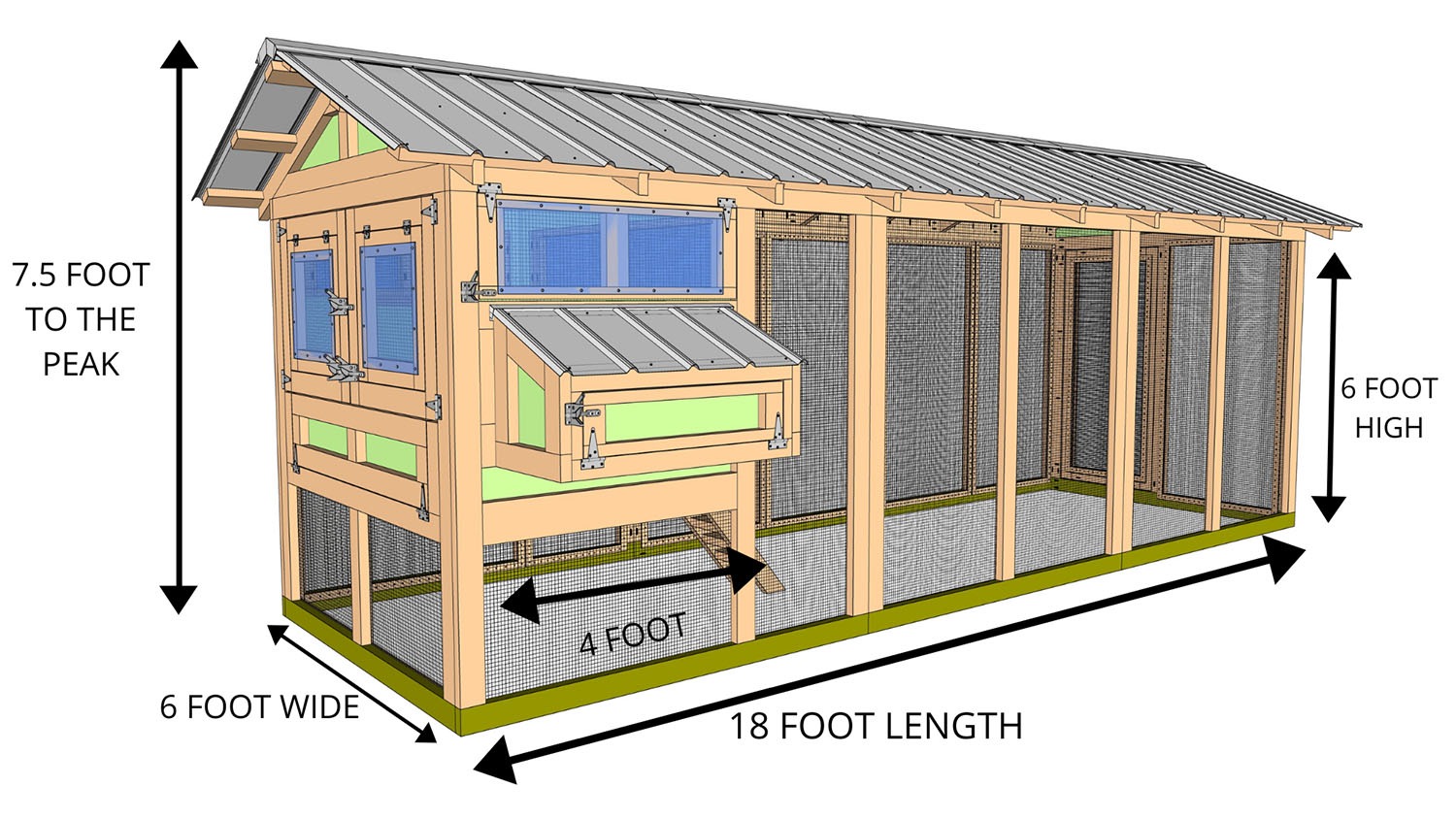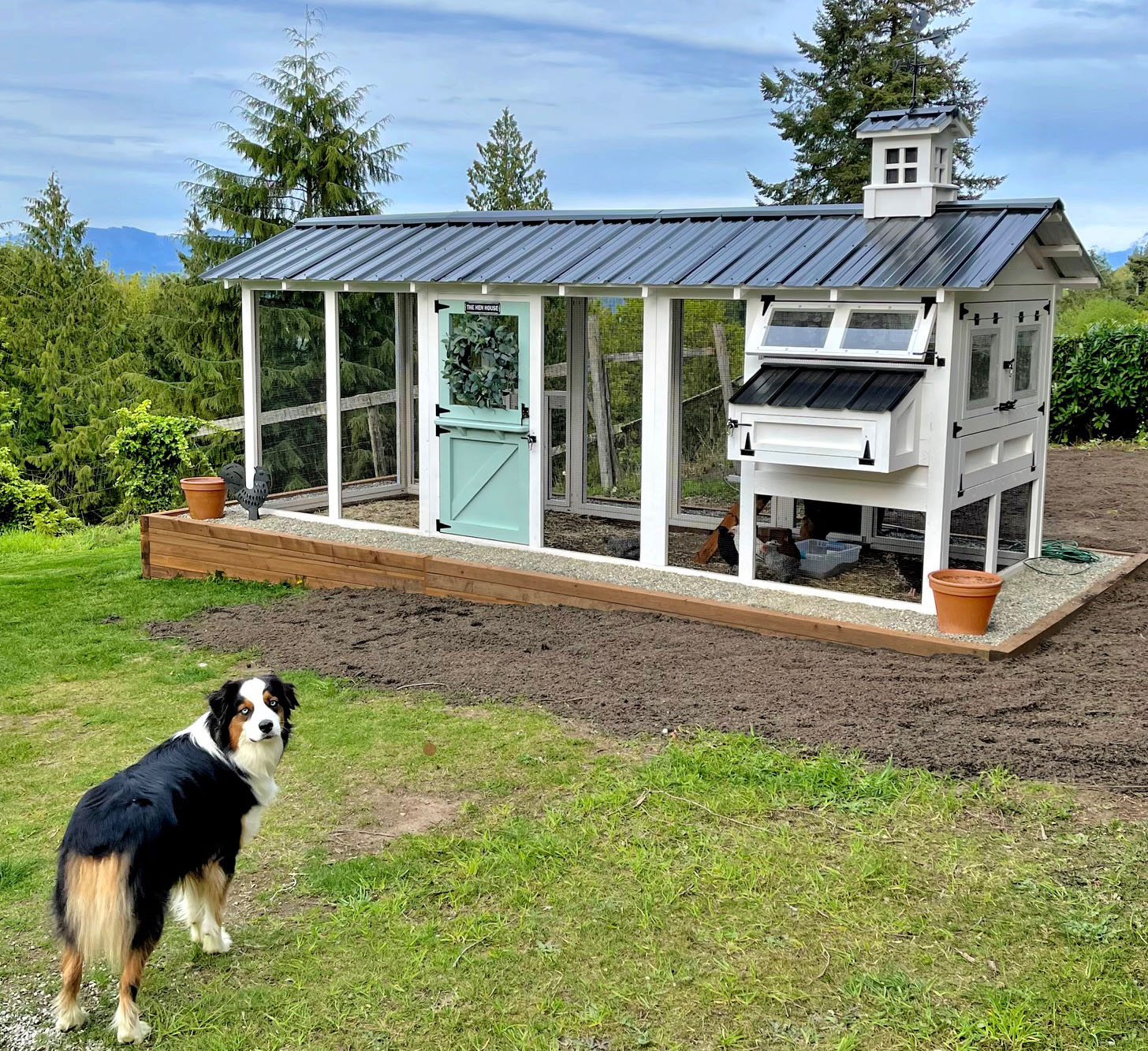 6'x18′ AMERICAN COOP CALCULATOR
6′ X 24′ AMERICAN COOP: STARTS AT $6,700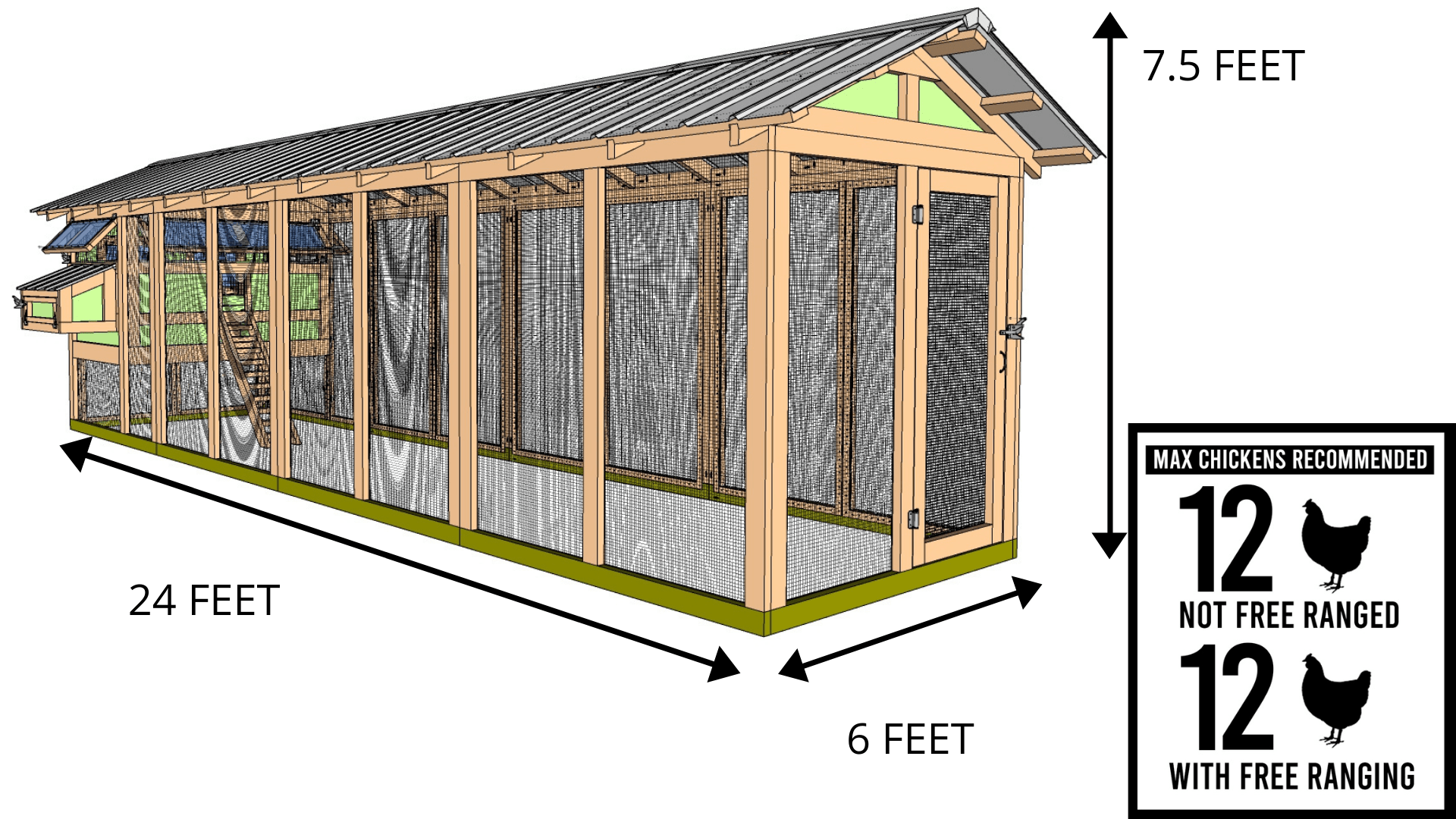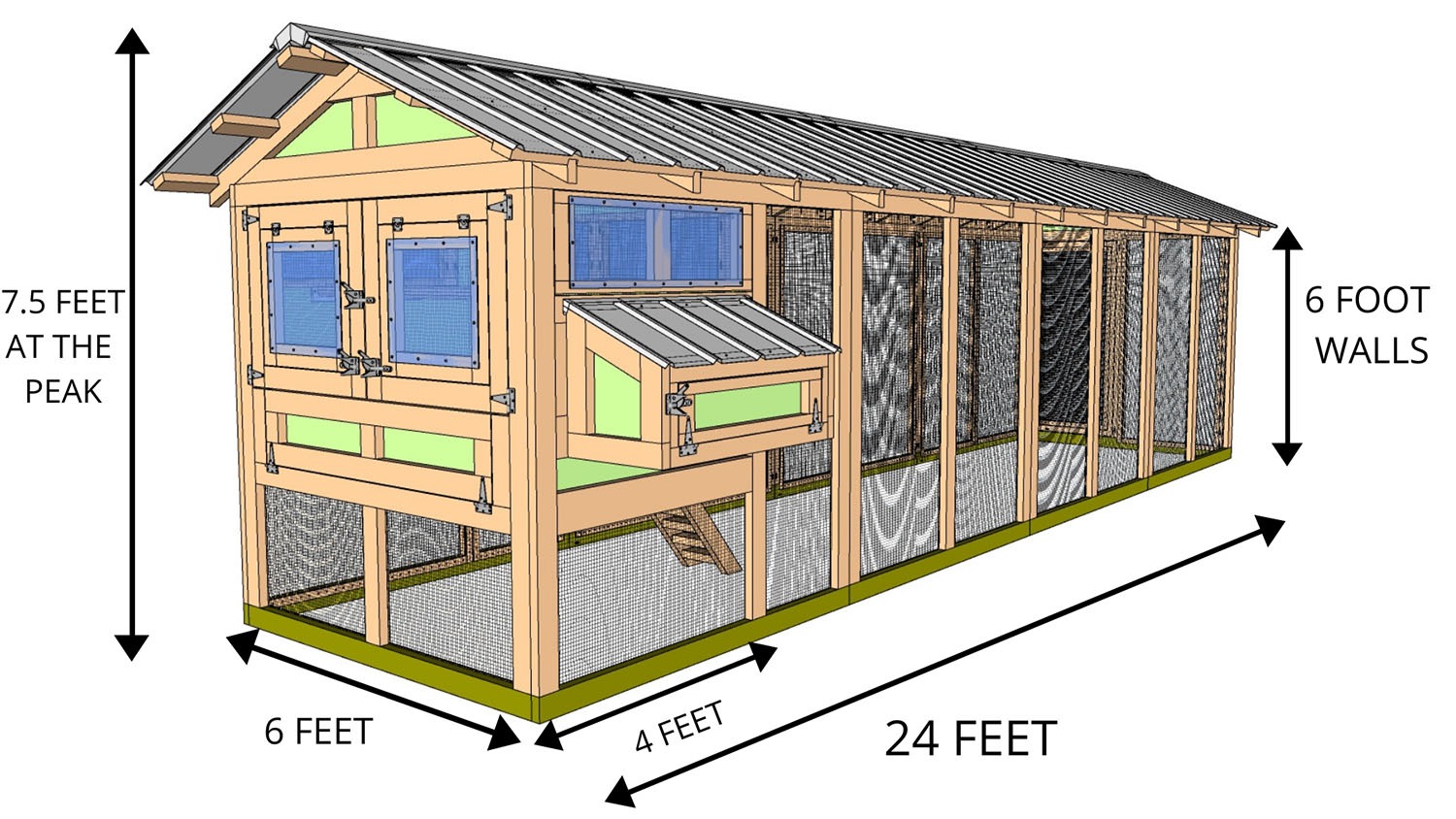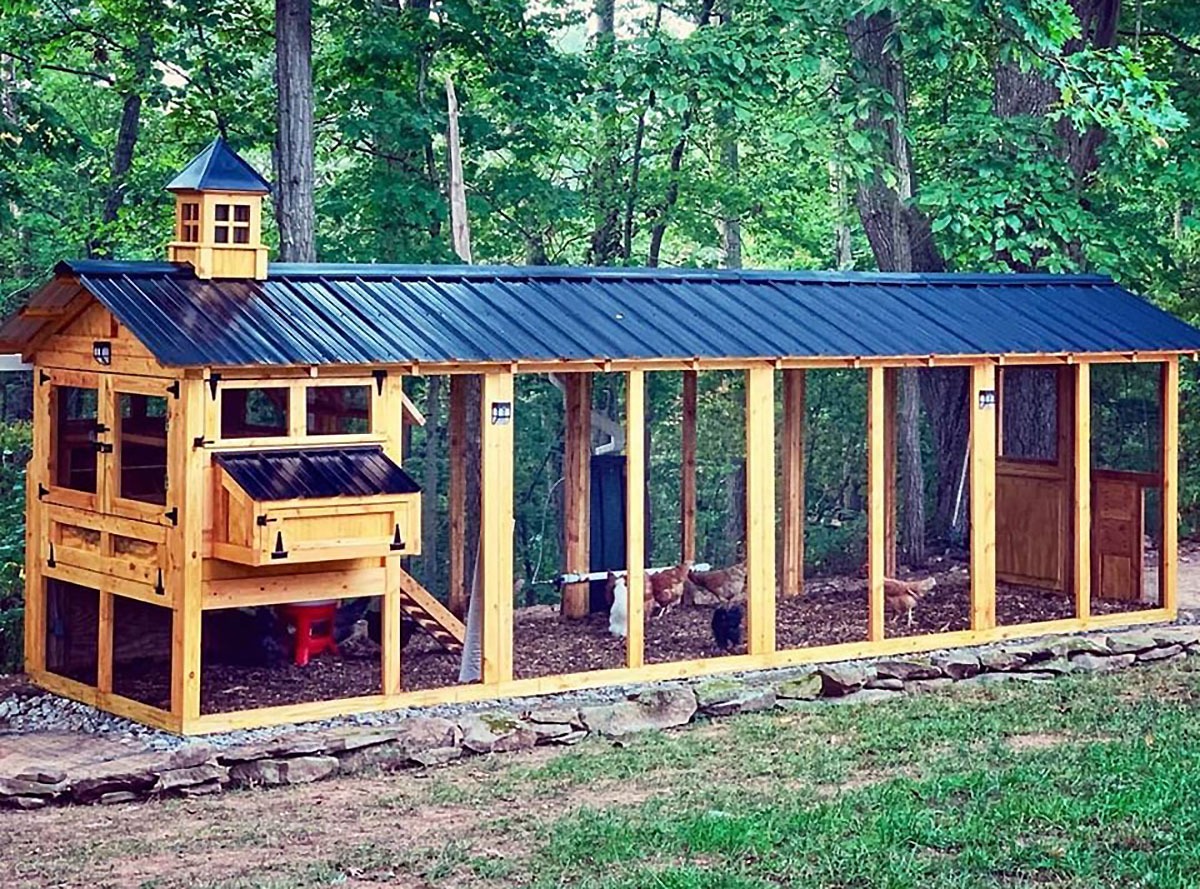 6'x24′ American Coop Calculator
Standard features include:
*Premium Douglas fir lumber with pressure treated ground contact base
*Deep litter bed in henhouse – no cleaning for at least a year or longer
*HDPE-lined deep litter bed with flip-down clean-out door for easy cleaning
*One egg hutch with 3 HDPE-lined nest boxes suitable for 16 hens (with removable dividers)
*Two 6′ roost bars (removable for easy cleaning)
*Henhouse screen doors with tilt-up (cantilevered) doors to keep out cold and rain
*1/2 inch black PVC coated hardware cloth wire
*Metal roofing in Black or Galvalume and exterior black hardware (latches,
hinges)
*Covered walk-in runs have 6-foot walls, 7.5′ at the peak, keep your flock
shaded and dry
*Human access door can be place on front or side of run
*Chicken stairs with hooks (removable for easy cleaning)
*All our chicken coops are predator proof
I did LOTS of research before purchasing a chicken coop. It was important that I had a quality coop that would last for many, many years. You know what they say about "you get what you pay for". It's true. Spend a little more money to get a sound investment. That's what I did with Carolina Coops. I would recommend Carolina Coop to anyone who wants a coop that's been well thought out and designed for your flocks every need.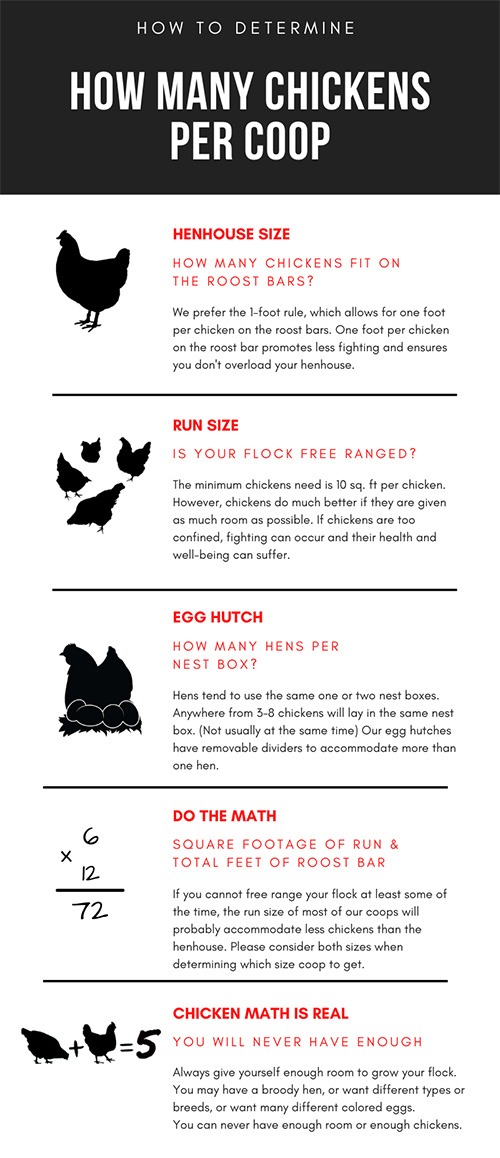 This is to illustrate why there are two factors in determining how many chickens you can fit in your chicken coop.
THE HENHOUSE
We believe in the one-foot rule. One foot per chicken on the roost bars. Plenty of room and less squabbling at night. This shows 12 chickens on 12 feet of roost bar space. It may look like you can fit more, but overloading the henhouse can result in other problems.
THE RUN
Chickens need and prefer as much room as possible. If you cannot free range your chickens outside the coop much or at all, the least amount of space is 10 sq. ft. per chicken. This shows 7 chickens in a 72 sq. ft. run.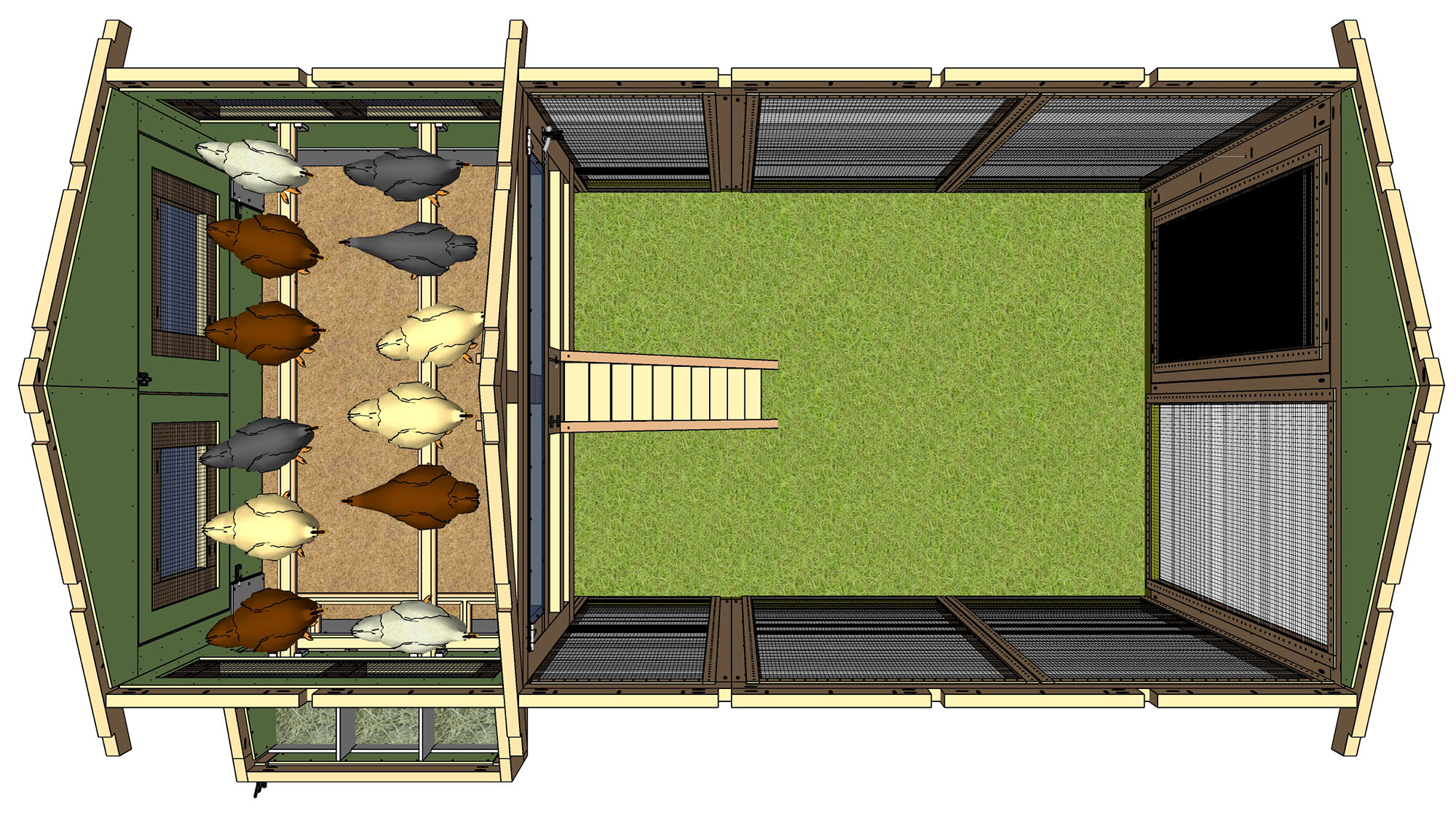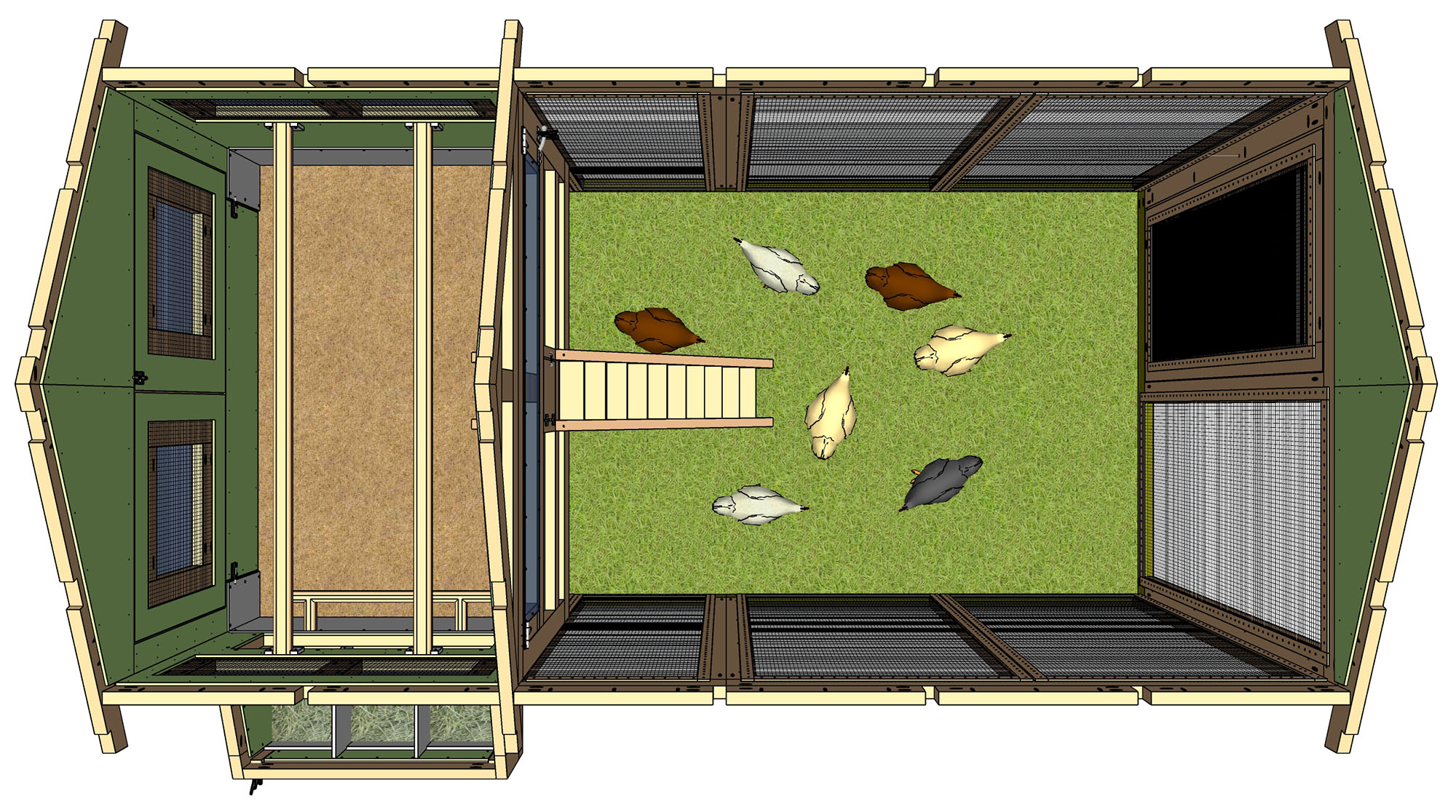 WATCH THE VIDEO TO SEE ALL THE FEATURES OF OUR AMERICAN COOP
Please visit our FAQ page to help answer any questions before ordering your chicken coop. Shipping costs on chicken coops vary depending on location and delivery method. Our coops weigh 1,000 lbs. or more and we ship across the U.S. all the time. Most shipping ends up to be around $800, but ranges from about $600-$1200.
See our shipping map for estimated shipping charges or check out all our shipping and delivery options here.
*Painting for an American Coop is only available with turn-key service and not an option for shipped coops. Please note that it will also increase price by at least $1,500 and extend build time for painting and attaching the hardware cloth.
Turn-key service is available, which includes delivery and assembly, however prices vary depending on location, coop size, and time of year. Please contact us if you are interested in this service with your coop order. PLEASE NOTE: Turn-key services averages $3/mi to location and $1500+/per day on site.