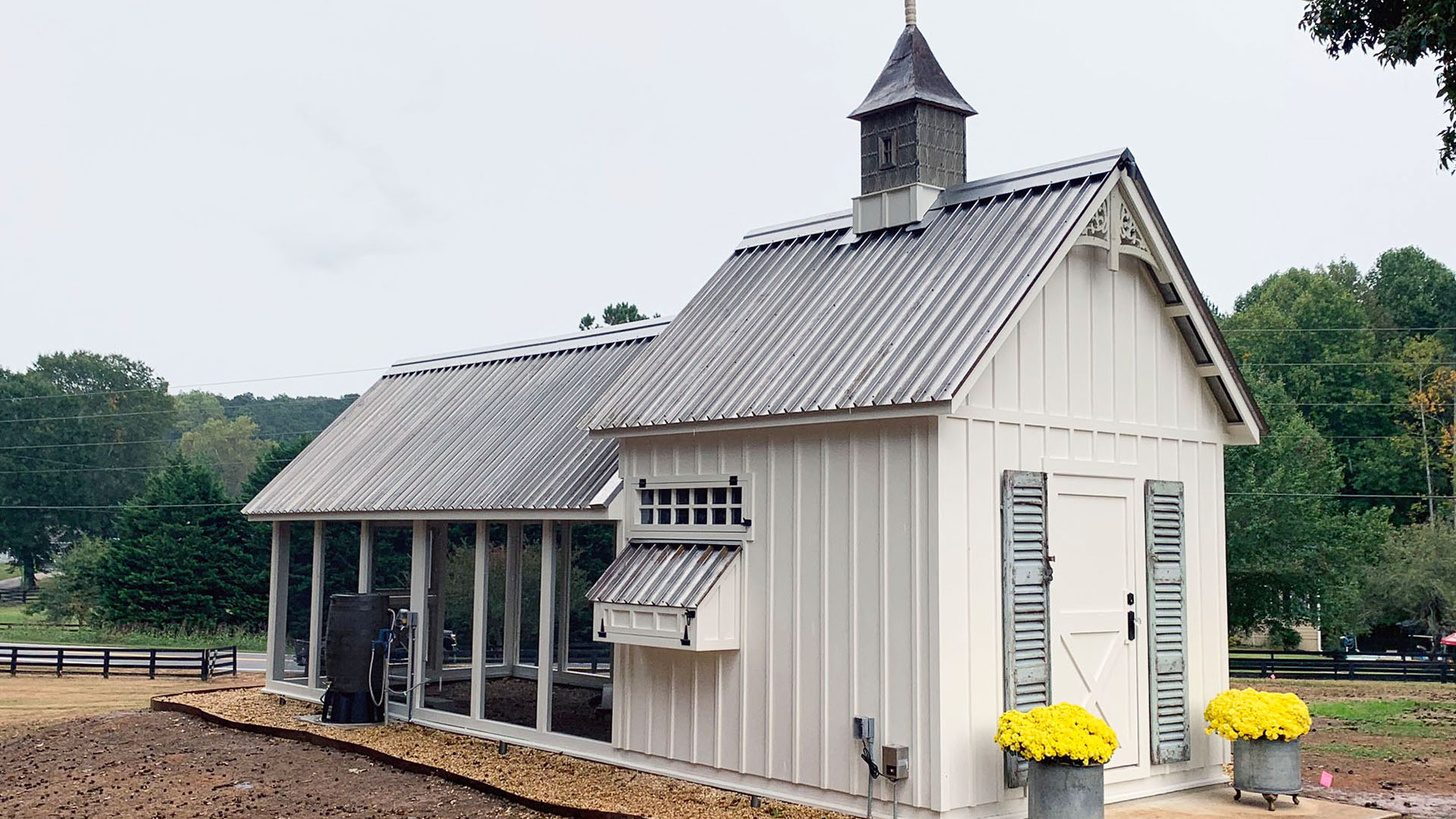 SEE OUR PREMIUM
CHICKEN COOPS
Browse our diverse selection
of walk-in chicken coops for
every budget and every backyard!
SHOP OUR WALK-IN COOPS
SEE OUR COOP OPTIONS & ADD ONS
Shop our most popular chicken coops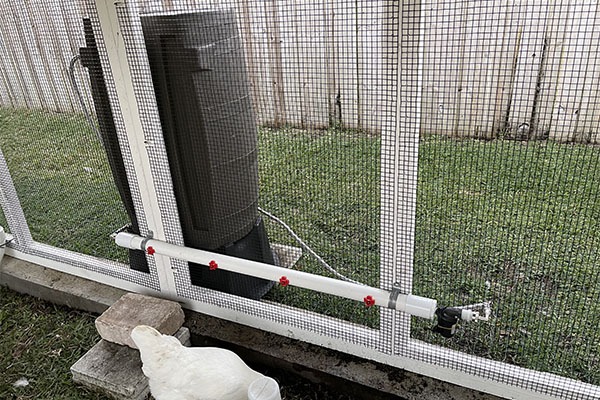 Coop Accessories — Hemp bedding, poultry water systems, rope wrapped roost bars, egg hutches and more!
HERE'S WHY OUR CHICKEN COOPS ARE THE BEST OUT THERE
Whether you're searching for a prefabricated chicken coop with minimal assembly requirements or a custom coop built to spec, Carolina Coops® makes it easy to choose the option that perfectly complements your backyard or property.
All our chicken coops have our signature deep litter beds so there's no cleaning out the henhouse for at least a year or longer!
Check out our chicken coop videos or contact us to speak directly with one of our expert builders.
Jeffrey Taraboulos
August 3, 2021.
I am not a person to give a ton of reviews but in this particular situation, one is warranted. We are so happy with how beautiful and how well made our coop is. The coop is so beautiful that people have come to our house to take pictures in front of the coop for special occasions such as birthdays and weddings. I ordered the 6-foot by 24-foot American Coop in August of 2020 and after they built it and brought it down they installed it in late December of 2020 finishing the project on New Year's Eve. What an amazing experience this has been from the initial sale where I knew nothing about coops to getting information in between to prepare my site to the installers that came to install my coop to seeing the end result. It is hot, humid and there is a lot of rain here in Florida and 8 months later, not a single thing has deteriorated, warped, come loose, broken, or even appeared aged. The quality of these coops is unparalleled. Its so strong you can walk on the roof. We had started with a small coop we ordered online from tractor supply and you can totally see the difference. That other coop is completely falling apart. You can tell this coop will be around for a long time. My chickens are so happy in this coop that if for some reason I can't let them out to free-range on a particular day they are perfectly happy. The industrial hemp bedding inside the coop is amazing. There is absolutely no smell and it does not need to be changed for a year or more. Everyone that works at Carolina Coops is so friendly, knowledgeable, patient, has great customer service skills, and are really helpful. I highly recommend this company for anyone looking for a coop. Its worth every dollar to work with them. I am trying to figure out what I can add to my coop because my experience was excellent and I want to work with them again. As someone else said these people love what they do and it really shows.
Adam Lowenstein
June 2, 2021.
I cannot say enough about the customer service and quality of Coop I have experienced with Carolina Coops. I had a unique experience, and what could have been a disaster was turned into an amazing experience and that required a specific attention to customer service. My coop was ordered about 8 months ago, and because of their extraordinary popularity, I had to wait for manufacturing and delivery across the country in California. The coop was manufactured on the schedule they provided, and then shipped to me by a ground carrier. My family and I were extremely excited once the coop was to arrive, but when that did happen, the palate that the kit was on appeared damaged and the shipping company recommended that I don't accept the damaged delivery. My family and I were pretty crushed that we had waited for this awesome coop for so long and I called Carolina Coops and was pretty upset. Matt actually called me back personally, left me his cell number, and said that he had to check on some things and would get back to me. It turned out that their custom coop guys were not too far away in Southern California, and Matt made arrangements for them to drive up to the shipping depot, check on the contents of the palate, take the palate themselves and deliver it to my house, and build the coop themselves. There were a few items that were missing from the palate having fallen over during shipping, and their team ran to Home Depot and sourced the missing material and built the coop themselves in hours. We were AMAZED! Our coop is awesome and I could not be happier with Carolina Coops, and recommend them unconditionally!
Doug Banks
April 30, 2021.
I am thrilled with "Chick Mahal" the name of our marvelous Carolina Coop. My birds love it and we are getting wonderful production from them daily. The assembly was virtually perfect. The only mistake made was the Human Door firring strips to hold down the hardware cloth were cut backwards. The long sides were too long, and the short sides were too short. Also, two of the Rafter separators were marked incorrectly, but it was easy to solve both problems. I chose to use screws instead of nails for all of the nails you sent, and I would highly recommend that you switch even if you have to charge more. I don't hammer a lot, and driving screws was easier on my arms, and much less destructive to the coop! I did wear out the square drive bit you sent, but that may have been due to my not pushing hard enough. I do prefer the new star screws that are out there now, and I wouldn't have minded paying a little extra for those either. We attached our coop to an existing run leaving the run end open. Attached are some pictures. We also attached our temporary coop to the run to use as a Broody coop when we are ready to hatch some chicks.
John Cockerham
April 24, 2021.
We purchased this American coop because we liked to design and features. I am very happy with the end results but it took a lot of effort on our part to get it there. I found several of the pieces provided were made from inferior quality/grade wood. We decided to go with a natural wood finish so I had to sand numerous pieces to get them smooth enough and to remove the ink stamping used by the lumber mill before I could apply the finish coat. At least three of the wood pieces were so rough I had to reproduce these parts using better quality wood. I also found the assembly instructions, nearly 300 pages long, vague in places and referenced pieces that were hard to identify because many of the pieces were not numbered. A simple arrow pointing to where a specified clearance should be would have greatly helped. I enjoyed assembling this coop and with some unexpected extra effort for a coop at this price point I am pleased with the outcome. It is a beautiful coop but I would not recommend it to someone that has limited building and finishing skills.
Sally Woods
April 22, 2021.
I just wanted to send a note of thanks for this fantastic Carolina Coop. I researched 3 years for a coop that would: 1. Keep my chicks safe from predators 2. Would aesthetically blend on our property 3. Stand the test of time 4. Be low maintenance Carolina Coops checked all the boxes. I finally made my decision then COVID hit along with delays. It was well worth the wait! Big shout out to Sean and Adam for their professional install 2 days before Christmas!! I am very excited for my baby chicks to arrive next week. I have attached a few pictures of the finished coop. As you can see I have set up the hen house as a brooder. Thanks again for a wonderful coop! Sally Hahira, Georgia
Fishinmatt Ryan
April 1, 2021.
I went to Youtube a few years ago in hopes of getting ideas to build my own backyard coop. While browsing, I came across Matt's videos showcasing his coops... Carolina Coops design & size was exactly what I was looking for... After going to a few lumber yards and hardware stores to price materials so I could try to copy the "American Coop", I realized that Carolina Coops' prices were close to what the cost of all the material would have cost me if I were to source it all myself! - In fact, I think I saved money when you consider how many trips to the hardware store you would have had to make when you either didn't buy enough of something, or realize you need something half way through that you didn't think about getting! My 6'X12' American Coop came in a kit (palletized) with most of the walls and gables assembled, and all of the other pieces pre-cut & drilled w/ pocket holes... All I had to do was paint and assemble it using the easy to follow instructions... I had a VERY MINOR issue with some of the lumber, however Matt and Ingrid worked with me and sent me new pieces immediately. I was very happy with their patience and high level of customer service! Carolina Coops earned my business from watching Matt's Youtube videos and seeing how he has dialed in his design to be attractive - yet cost effective AND tailored to the needs of the chickens being their top priority! You can tell Matt, Gnon, Ingrid, Mackenzie, Evan and the rest of the Carolina Coops team care about their customers as well as the health and safety of our chickens! Their attention to detail and customer service are bar none! THANKS AGAIN!!! - I HIGHLY RECCOMMEND CAROLINA COOPS!
Brad Phiel
February 3, 2021.
We shopped for a coop for about one year and are
Levi Norman
October 27, 2020.
You want to get in on the chicken game? There's a lot to learn, BUT having said that, the best thing you could do for yourself and your chickens is start with the right coop. Without question, Carolina Coops has that part covered. We had a coop before we got this one in Dec '18 and that other coop nearly cost us the joy of having chickens. It was wrong by design, hard to use, and frankly not safe for the birds. By contrast, Carolina Coops will guide you towards the right coop, one that is safe for the birds, built in a way to last for years to come, and can be as feature rich as you want. For instance, we just added the rain barrel system to make watering a no brainer. And we are not done enhancing it; the coop literally becomes a hobby unto itself. Matt and his team will guide you, answer all your questions, and still be there post the sale to continue to educate you, guide you, and answer your questions. If they don't know the answer, because really they're there to help you get the infrastructure part right, they'll connect you to someone in their vast network that could answer your other questions around health, etc. Again, you want in on the chicken game? Carolina Coops is where you start.
Jeff Kong
October 16, 2020.
My family had been discussing raising backyard chickens for a few years now and we finally decided to give it a go this past spring. Knowing little about it, we turned to online sources for what information we could gather, including buying a coop. After starting with another manufacturer's "high-quality" coop that overpromised on capacity, I eventually ran across Carolina Coops and found their YouTube videos and the information they provided to be invaluable. I was impressed by the quality (and size!) of their coops and realized that you get what you pay for - a coop from Carolina Coops is about as deluxe as you can get! It may have cost 3-4 times as much as the other coop I started with, but it's easily 20 times better. Assembling the coop was fun and educational as well (it felt like building a barn), and it helped me understand how incredibly sturdy a structure it is. I have no doubt that my chickens are quite happy and safe. Also, Carolina Coops' customer service and chat support are top notch, with friendly advisors who are very helpful and who have always provided me with sound advice! I'd highly recommend a coop from Carolina Coops if you want a lovely home for your chickens that will last for many, many years and that will help keep them healthy and happy!
william grant
October 5, 2020.
My name is Bill Grant and I am a builder in North Atlanta, Dunwoody. Very large and finely detailed homes are our specialty. I keep chickens and decided I needed a larger and better coop and run. While researching the design I ran into Matt and Carolina Coop online. Initially I was going to copy his ideas in my design and build it myself. The more I looked the more I realized that Carolina Coop builds Chicken Coops like cabinets. Perfect and refined in detail and features. The more I investigated my conclusion was that, while I could build it for a little less money what I built would not be as good as what Carolina builds. I ordered a 8' x 6' Carolina Coop with an 8' by 14' run, board and batten with everything but the cupola. (still would like it better with the cupola but got out voted). Well, a 4,000 lb. pallet showed up in front of my home in a tractor trailer – fortunately, I own a Bobcat so I could get it off the truck and up the drive to the house. We unpacked it and unfortunately, given there was no big access to the site, we had to carry each piece to the back by hand. Not difficult as we have lots of hands. With my two superintendents we set out to assemble this monument. We had prepared the foundation in advance, so the sole task was to set up the coop and run. Everything was numbered and the directions were perfect. Clearly, it had been assembled in the shop when built, so everything fit perfectly - like furniture! Took us two days to put it together. My guess is if we did it again, we could do it in a day. Beautiful! I have only made two changes, we repainted the board and batten in a contrasting colors and installed two perches in the run three feet off the ground. The balance is as delivered. If I ever get another coop It will be from Carolina Coop. They are the best.
Carolina Coops® is dedicated to functional farming at its very best, and we're proud to offer one of the country's best selections of
superior-grade chicken coops and accessories.
We pride ourselves on our customer service and will go above and beyond to make sure you have the coop of your dreams.
IF YOU CAN DREAM IT, WE CAN BUILD IT!
Find out what Carolina Coops® is all about in this video